L'association Opendata.ch en collaboration avec l'Open Knowledge Foundation (OKFN) et Lift Conferences sont fiers d'annoncer cette année la tenue de la Open Knowledge Conference, l'OKCon 2013, qui se tiendra du 16 au 19 septembre à Genève.
Du 16 au 18 septembre se déroulera à Genève l' Open Knowledge Conference (OKCon), une conférence internationale dédiée à l'Open Data. La Suisse sera ainsi pour quelques jours le point de ralliement de la communauté Open Data internationale provenant de plus de 50 pays. En tant que pays hôte de la manifestation, la délégation Suisse offrira un panel d'intervenant tout particulièrement étoffée et prestigieux.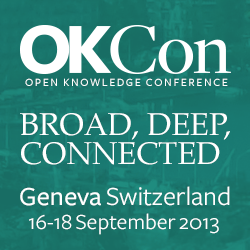 Sous le thème « Open Data – Broad, Deep, Connected » les expériences passées et les développements futures seront présentés. Le programme de l'OKCon offre un large aperçu des développements actuels, ainsi que d'une vaste palette d'ateliers présentant les possibilités réelles de l'Open Data.
Les autorités suisses saisiront également l'occasion pour lancer et présenter leur nouveau Portail Open Data, permettant ainsi à la Suisse de s'aligner sur ses partenaires européens et internationaux. L'OKCon 2013 sera de plus sous le patronage du conseiller fédéral Alain Berset qui souligne dans son message que le « bon fonctionnement d'une démocratie et la prospérité d'une société appellent un accès aussi large et aussi équitable que possible à l'information ».
La ratification de la charte Open Data Charter à l'occasion du dernier sommet G-8 montre clairement que l'Open Data devient un standard international que chaque pays démocratique se doit de respecter. L'ouverture des données publiques doit être une priorité pour tous ceux qui, dans l'administration publique, dans les entreprises, les médias, les institutions scientifiques et dans la société civile, sont responsables de données. La OKCon à Genève est une occasion unique de faire un état des lieux.
La « Open Knowledge Conference » est un rendez-vous à ne pas manquer pour tous ceux qui s'intéressent à Open Data ! C'est même le seul évènement cette année se consacrant exclusivement à ce thème, et ce au niveau mondial. Nous vous invitons tous à réserver aujourd'hui votre billet pour la OKCon 2013. Nous nous réjouissons de vous voir nombreux le 16 septembre à Genève !
C'est avec plaisir que nous vous proposons le code promotionnel suivant, qui vous offre une réduction de 15 % sur tous les billets jusqu'au 15 aôut :

---
English version after the jump:
Not to be missed: OKCon 2013 in Geneva, the Opendata.ch event of the year!
Dear friends of Opendata.ch,
As many of you already know the Open Knowledge Conference, or short OKCon 2013, will take place 16. – 19. September here in Switzerland, in Geneva!
At least for a few days Switzerland will be the center of the international Open Data community. We expect several hundreds of guests from more than 50 countries – but also a very prestigious field of participants from Switzerland.

The theme of the conference "Open Data – Broad, Deep, Connected", lends itself to present current as well as future projects. The programme will offer a broad overview of current developments, comprehensive thematic inputs and a number of workshops that will offer possibilities for hands-on participation.
One very special highlight from a Swiss point of view will be the launch of the Open Data portal of the Swiss federation. In this context Federal Councillor Alain Bernet, under who's patronage the conference is going to take place, will adress the conference, stating that "broad and fair access to knowledge are one of the prerequisites for a functioning democracy and civil society".
But OKCon is not only the setting for the first appearance of Switzerland on the international Open Data stage. The recent ratification of the Open Data Charter at the G8 summit shows clearly, that Open Data has developed into an international standard now, one that every democratic country will have to live up to in the future. Open Data is no longer just the pastime of some tireless transparency enthusiasts. Open Data must now be seen as a top priority for administrations, corporations, the media, scientific institutions and other civil organisations, for anyone really holding the rights to any data. OKCon in Geneva will be a great opportunity to look into all of this.
The Open Knowledge Conference is mandatory for for anyone interested in Open Data! There won't be another international Open Knowledge event of this scale anywhere else in the world this year. We invite all of you to purchase your tickets for OKCon 2013 today. And we look forward to seeing you 16. September in Geneva.

Kind regards,
for the Opendata.ch board
---
Please find below a few links to blog-posts from the OKCon Blog:
OKCon 2013 Invited Speakers: Ellen Miller
OKCon 2013 Invited Speakers: John Ellis
OKCon 2013 Invited Speakers: Victoria Stodden